Tacoma - For the second year now, Graymont Tacoma has hosted a tour of the plant by 7th grade science students from Whatcom Hills Waldorf School in Bellingham, WA. This year, 20 students, their teacher and 3 chaperones were shown a Power Point presentation by Rob Freeman that explained the uses of lime and limestone in many different industries today, and specifically, how it is used at the Tacoma plant in the production of PCC. Students also took a tour of the facility, observed demonstrations in the lab, and were treated to a box lunch. Feedback from the students and teachers – very positive!
Graymont takes a long term view of its business and the lime industry and is looking forward to continuing its work in Tacoma, Washington, and in so doing, improving our environment, contributing to the community as a good neighbor and adding value as a responsible business partner.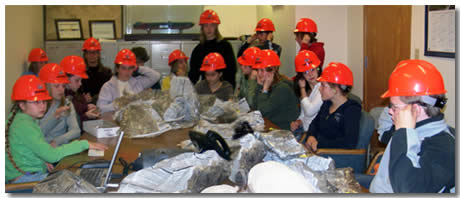 Students from Whatcom Hills Waldorf Jr. High try on their hard hats before taking a tour of the Tacoma PCC Plant.