Graymont's Indian Creek plant is located near Townsend, Montana just north of the Limestone Hills. It supplies customers in Montana, as well as several other western states.
Lime is produced in two coal/coke-fired preheater kilns. The plant is also equipped with lime-sizing and storage facilities as well as a hydrator, enabling it to produce and store a full range of bulk lime products.
High-purity limestone from the quarry, located on the south side of Indian Creek, is trucked to a crushing plant where it is sized and conveyed to a large storage pile adjacent to the preheater kilns. Bulk truck-loading facilities are provided at the plant site and railcar loading is available from a terminal located on the Montana Rail Link line in Townsend.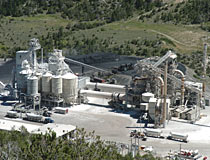 Contact Us
Indian Creek
P.O. Box 550
Townsend, MT 59644
United States
Sales phone
1 801 262-3942
Plant phone
1 406 266-5221