In support of their local West Wendover, Nevada community, the Graymont Pilot Peak Plant recently donated the limestone fines needed to create the base for the new outdoor recreational venue the Leppy Hills Trails. The hard pack trails run for 5 miles north of the town, and have been designated for walking, biking and other non motorized activities. The Trails wind through the desert providing beautiful views of the hills, cacti and wildflowers.
This project has been in development for several years, and was recently completed with a celebratory ribbon cutting ceremony. Pilot Peak Plant Manager Terry McIntyre was presented an appreciation award for the donation, and is shown here with West Wendover's Mayor Joey Thaut and City Manager Chris Melville.
Graymont takes a long term view of its business and the lime industry and is looking forward to continuing its work in West Wendover, Nevada, and in so doing, improving our environment, contributing to the community as a good neighbor and adding value as a responsible business partner.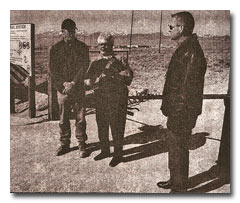 Terry McIntyre, Graymont Western, accepting an appreciation award from Mayor Thaut and City Manager Chris Melville.