Graymont Materials (US headquarters in Plattsburgh NY), was recently selected as the Plattsburgh-North Country Chamber of Commerce "Business of the Year". This award recognizes Graymont Materials' participation, numerous financial and service contributions and overall commitment to the communities where they operate.
Graymont Materials provides a wide array of construction materials such as aggregates, sand and gravel, decorative stone, asphalt and ready-mix concrete to the northern New York area from their numerous quarries and plants.
Todd Kampainen, President and CEO of Graymont Materials remarked, "I would like to not only thank all of the individuals in New York who support and participate in community activities, but also Scott Bombard in particular for spearheading so many of the community based initiatives the New York group has gotten involved with over the years. He is the driving force behind so many of the projects and programs we support in the local communities."
All of Graymont congratulates Graymont Materials for this well deserved recognition by their local Chamber and wish them future success as they maintain high standards of community involvement and corporate citizenship.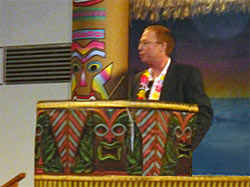 Sales Manager, Scott Bombard, who accepted the award for Graymont commented, "Everyone in our organization works so hard on our community care projects, and to be named business of the year just illustrates all of their hard work. We believe that you can judge the worth of a company by how they treat their community and how their community responds to them. I am proud and honored to be able to accept this award for all the employees of Graymont Materials.
Following is an excerpt from the Press Republican story about the Chamber Awards dinner dance:
Chamber announces annual business awards
By Dan Heath – Staff Writer
January 28, 2009
— PLATTSBURGH — Four award winners basked in the glow of a tropical paradise Friday evening, despite not leaving Plattsburgh.
The Plattsburgh-North Country Chamber of Commerce honored the recipients of four awards at its 97th-annual dinner and dance at the Angell College Center ballroom at Plattsburgh State.
BUSINESS OF YEAR
Graymont Materials was named the chamber's Business of the Year. Sales Manager Scott Bombard said the employees were thrilled with the honor. "Our people are pretty ecstatic," he said. To even be considered for the award is a big honor for the company, Bombard said. "This award is a recognition of Graymont's long-standing commitment to the community."
Graymont and its employees support a number of causes, both financially and with employee resources, including the American Cancer Society, March of Dimes, Cystic Fibrosis, Hospice of the North Country, American Heart Association, Make A Wish and United Way. Two of its major community initiatives are Plattsburgh Quarry's Kids Days and acting as a presenting sponsor of Dozer Day. This was the fifth year Graymont hosted Kids Days, two days at the end of March when fifth- and ninth-grade students can tour the Plattsburgh quarry to learn about the construction-materials business. "We had more than 700 school kids here last year," Bombard said.
Graymont has been involved in a number of notable projects through the years, including work at CVPH Medical Center, Plattsburgh State, Plattsburgh Air Force Base, Clinton Correctional Facility, the Wild Center in Tupper Lake, the Olympic Regional Development Authority's bobsled and luge run at Mt. Van Hoevenberg and the Port of Excellence border crossing at Champlain.