Genoa, Ohio – Graymont is proud to announce that on March 19, Graymont's Genoa Plant, Graymont Dolime Inc., was awarded the Ottawa County Improvement Corporation's (OCIC) prestigious "Business of the Year" award at the 2008 Business and Industry Awards Dinner. Graymont Dolime won in the business category of companies in the county with 31-65 employees (Graymont Dolime currently employs 61).
Keith Hille, Plant Manager, was out of town on the award night, so Dave Michalak, Plant Engineer, and Ed Sanford Mill and Packing Superintendent, attended the event and picked up the prize. They carried back to the plant a beautiful brass sextant with the Graymont Dolime's achievement inscribed on a plate affixed to the instrument case. Keith is looking for a way to prominently display the sextant so all visitors and employees are able to view it.
Keith said he knew the plant had been nominated, but even so, was thrilled to be named number one. Selecting the winners in all categories was considered "challenging" by the organization's president, Mike Bassett who spoke for the selection committee. Criteria for selection of the award was based on Quality of Products and Service, Customer Satisfaction, Employee Benefits and Training, Marketing Initiatives, Expansion Efforts to Create and Retain Jobs, Community Involvement and Overall Excellence.
Keith is personally active in the OCIC having already served two of four years on the Board of Trustees. The OCIC serves as the lead economic development agency in Ottawa County, Ohio, through advancing, encouraging, and promoting the industrial, economic, commercial and civic development of the county.
Graymont takes a long term view of its business and the lime industry and is looking forward to continuing its work in Genoa, Ohio, and in so doing, improving our environment, contributing to the community as a good neighbor and adding value as a responsible business partner.
Dave Michalak with other winners, front row far right.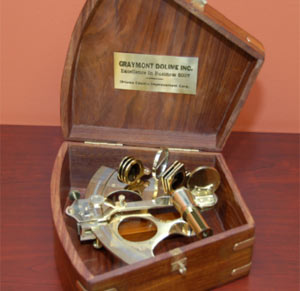 The sextant was chosen as a "trophy" because it is manufactured in the community and symbolizes the predominant geographic feature of the county, Lake Erie.