Faulkner Hosts Open House for Community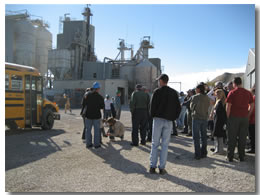 Faulkner - On September 22, Graymont's Faulkner Plant in Faulkner, Manitoba held an Open House for the community and the families of employees. One hundred twenty people responded to the invitation in the local newspaper and were treated to refreshments and tours of the quarry by school bus and in groups of five through the plant. Sirahuen Maldonado, Plant Manager was proud to be able to show off the facility and promote Graymont to the community: "In addition to the tours, we created a presentation area using the Graymont booth and a display of the various products that come out of the plant. The focus of the presentation was the many different ways lime is used in our world today." All of the comments from the visitors were very positive about their experience and many look forward to doing it again next year.
Graymont takes a long term view of its business and the lime industry and is looking forward to continuing its work in Faulkner, Manitoba and in so doing, improving our environment, contributing to the community as a good neighbor and adding value as a responsible business partner.